Company Profile
Company Info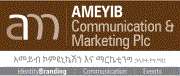 AMEYIB Communication & Marketing Plc
Addis Ababa, AA, Ethiopia
Company Description:
We are an enthusiastic group of young professionals with over fifteen years of experience. We pride ourselves in always using a holistic approach to the creative solutions we provide for our clients and their business needs.
We partner with organizations and companies striving to make a positive impact in the African Continent and on their business as well. We specialize in a wide range of Graphic art Design, Print including Marketing & Promotional materials, Website Design & Application Development, Event Planning and supply of imported visibility materials to essentially expand the scope of our clients' businesses. We believe our experience coupled with contacts we have in Dubai & India enables us perform our task professionally & efficiently.
Jobs by AMEYIB Communication & Marketing Plc
There are no postings meeting the criteria you specified
Title
Company
Location
Posted